Knowing About Saintyol DAWIN Machinery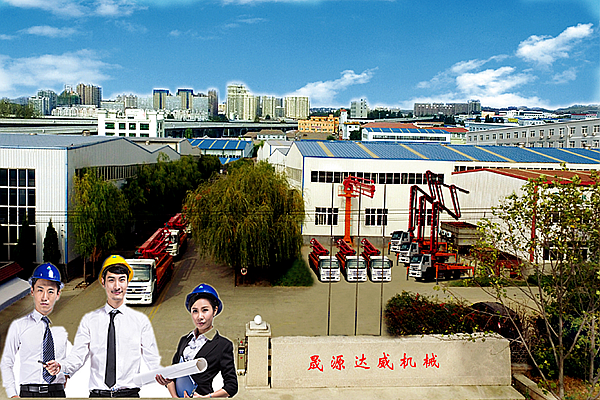 Developing By Science, Longer Via Quality Control & Prestige.
Saintyol DAWIN Machinery original from Germany advanced rigorously technology concept to push us to keep eyes on concrete pumps industry technology movement home and worldwide, and to hold and analyse the pros and cons on competing products and try to keep Saintyol DAWIN machines perfect in developing process by excellence working.
Nowadays, Saintyol DAWIN machinery based on the proven technology in electric steering concrete pump manufacturing, throughout years hard works, developed the outstanding performance full hydraulic control concrete delivery pump. The pumping capability are 15-120M3/hr, pumping pressure 5-22Mpa equipped in various electric and diesel concrete pumps. The advanced hydraulic system improved the whole machine reliability to ensure all the pumps could work perfectly safe and nice performance under harsh jobs conditions.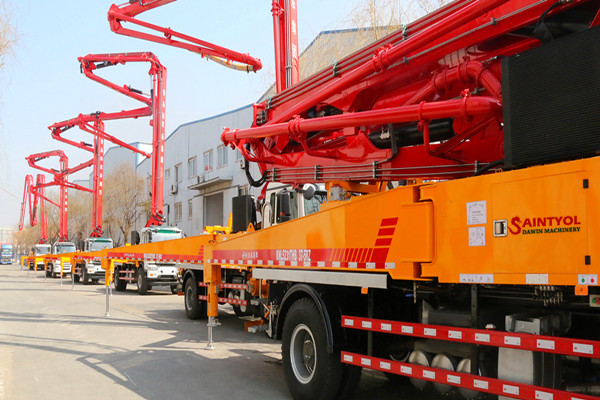 Saintyol DAWIN is the one-stop solution of all concrete machines in world construction field. Construction For Prosperity!
Machines manufacturing including Concrete mixer, concrete batching plants, concrete placing booms, concrete pump, boom pumps, wet concrete shotcrete spraying machine, concrete robot, Self-loading concrete mixers, wheel loaders etc, more than 800 models various machines and equipment. Our machines has participated in Qingdao Airport, Peking Asian Sports Town, National Road, Yangzi River dam etc the mid and large construction national projects here in China, and also participated lots oversea projects in Russia, U.S. Canada, Australia, Philippines, Nigeria, France, Afghanistan etc. Saintyol DAWIN construction machines is servicing the worldwide friends and projects within super performance. Construction for Prosperity!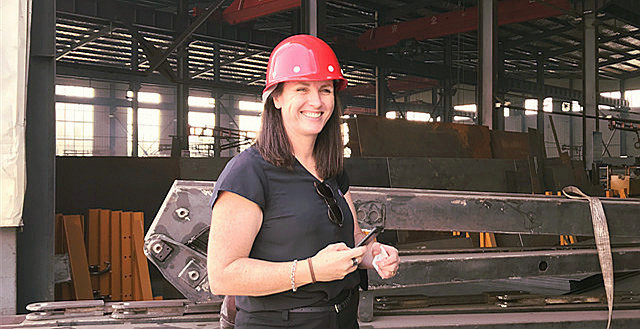 Words from Lynn--Director Construction Products of Antec Group Australia
It is lucky to visit Saintyol DAWIN Machinery in last year, we had a good time with Michael and his workmates to visit the group North and South workshops, including concrete placing booms, pumps trucks and some shotcrete machines etc..
South workshops is especially in pump trucks and batching plant mixers (horizontal and planetary mixers)
manufacturing. It is the genuine large factory than I could image and be impressed! we have had some cooperation in concrete placing booms and passed the SafeWork certificates in NSW Australia and we are expanding more of Saintyol DAWIN concrete machines worldwide.
| | |
| --- | --- |
| Main Market | Mainland, Hong Kong, Macau and Taiwan, Japan, North America, South America, Western Europe, Eastern Europe, East Asia, The Middle East, Africa, Oceania, global |
| Nearest port for product export | Qingdao, Shanghai, Tianjin |
| Delivery clauses under the trade mode | FOB, CFR, CIF, EXW |
| Acceptable payment methods | T/T, L/C, Westem Union, Cash |
| Whether any overseas office is available | Yes |
| Business turnover | USD 12 - 30 million per year |
| Import volume | USD 3 - 5 million per year |
| export volume | USD 10 - 12 million per year |
| Number of foreign trade department employees | 21-50 people |
| Number of researchers | 50 or more |
| Number of quality inspectors | 50 or more |
| Number of all the employees | 500 - 3,000 |
| | |
| --- | --- |
| Factory Area | 3,000m2 |
| Employees | 500 - 3,000 |
| Plant Add | Tieqishan Rd.413# Yuhuangling Industrial Park, Chengyang district, Qingdao, China |
Don't forget to sign up!
Find out early about all upcoming promotions and
newproducts releases
Name:

Michael Liu
Tel:

0086-186-69798625
0086-532-89659612
whatsapp:

0086 18669798625
skype:
Address:

Office: 216# THE 308 STATE ROAD, CHENGYANG DISTRICT, QINGDAO SHANDONG,CHINA. Factory: No.413# Tieqishan Road, Yuhuangling Industrial Park, Chengyang District, Qingdao, China