Saintyol DAWIN Concrete Mixing Pump and 1.2 ton Small Wheel Loader Container Shipping to Africa.
Saintyol DAWIN
concrete mixing pump
or say concrete mixer with pump , model number DJBT40-11-62 with a 62KW powerful diesel engine container shipped to Africa. the concrete mixing pump capability with a 40m3/hr pumping capability and a 20m3/hr mixing capability, it is a all in one machine for small and mide construction project, it equipped with a 4 hydralic legs, very convenient in job site operations, a trailer wheels easier movable and towable for short distance moving, pumping distance could be in 150m vertical pumping and 450m in horizontal pumping, shipping including 100m twin wall delivery pipe lines and elbows and clamps.
The 1.2 ton small
wheel loader
is the right match machine work with the concrete mixer pump, it could be right fitted into a 40'HQ container with the concrete mixer pump together with the parts.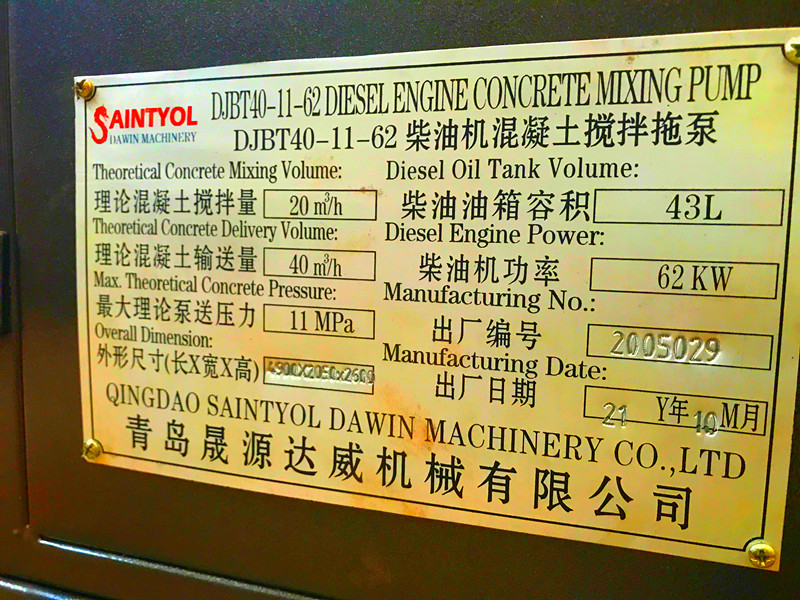 Concrete mixing pump or called concrete mixer pump for sale is a multiple functional pump, which is used to mix and convey the concrete mixture by using pressure along the pipeline continuously and it is widely applied in building construction, slope protection project, ground beam project, seawall construction, bridge construction and tunnel construction. And this kind of concrete mixer and pump can achieve the perfect combination between concrete mixing and conveying. It has characteristics of small power, small foot print, easy movement and low costand it is more suitable for spraying of floor heating, shotcrete engineering and refractory. Compared to large and medium concrete pump, trailer concrete pump, concrete boom pump and truck mounted concrete pump, it is more convenient and is much more suitable for five to 10 floors housing buildings of countryside and urban as well as new rural construction. And the actual vertical pumping height is 80 to 100 meters, horizontal pumping height is 150 to 300 meters. And we Saintyol DAWIN machinery have been worked in concrete mixer with pump for years, and our main products are electric type and diesel type concrete mixers and pumps. This page aims to introduce these two hot types for you and hope you will have a big harvest and can choose the most proper mixer pump for your construction.
Saintyol DAWIN Machinery concrete mixing pump or say concrete mixer with pump, concrete pump with mixer are made from high grade iron with perfect welding and assembling process in pumping and mixing multi-application capability for different construction jobs.
The advantages of the concrete mixing pump are as below:
A. Theoretical mixing capability in 15-20m3/hr.
B. Pumping capability in 30m3/hr or 40m3/hr/
C. Pumping system could be used separately for jobs.
D. 4 hydraulic control supporting legs, no need the crane to help the standing and moving on job sites, money and labors savable.
E.2 man control the whole machine, costs and labors saving.
F.Nice pumping performance, vertical pumping would be upto 160m and horizontal pumping would be upto 560m in theoretical.
G.Bigger aggregates allowed, the DJBT40 concrete mixing pump mixer and pumping system allowed the max 40mm-50mm aggregates rubble and pebble stones for concrete mixing.
H.The new design concrete mixing pump from Saintyol DAWIN Macinery is the right design which could be right fitted into the containers, easier in shipping by sea.
I.This kind of concrete mixing pump is an very easier maintenance concrete equipment, English manual for daily maintenance guidance available with shipping or by emails.