CE certificates for Self-loading Concrete Mixer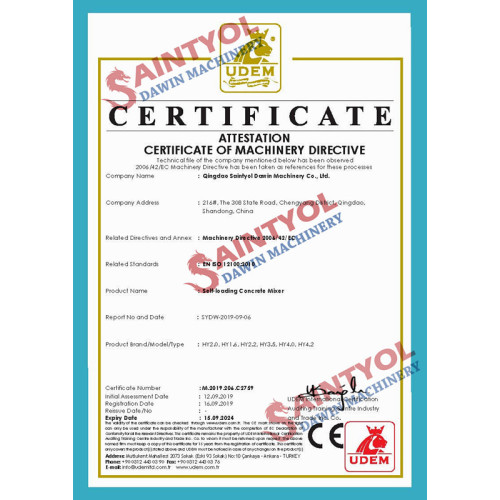 Period:
2019/9/12 - 2024/9/15
Certification bodies:
UDEM International Certification
Saintyol DAWIN Machinery HY2.0 HY1.6 HY2.2 HY3.5 HY4.0 HY4.2 models self loading concrete mixer passed CE certification and could offer the EC declaration of conformity for clients customs clearance.
Self loading concrete mixer is the combination of concrete mixer truck and cement mixer, which can automatically feed, measure, mix and discharge concrete mixture. Equipped with a powerful engine and 2 wheel steering, the self loading concrete mixer is just like a small car and the operator can drive it to where it needs to go. It is very convenient for loading material, such as cement, aggregate, stone. The raw material is scattered in the construction site.
Don't forget to sign up!
Find out early about all upcoming promotions and
newproducts releases
Name:

Michael Liu
Tel:

0086-186-69798625
0086-532-89659612
whatsapp:

0086 18669798625
Address:

Office: 216# THE 308 STATE ROAD, CHENGYANG DISTRICT, QINGDAO SHANDONG,CHINA. Factory: No.413# Tieqishan Road, Yuhuangling Industrial Park, Chengyang District, Qingdao, China