CE certificates for HGY series concrete placing booms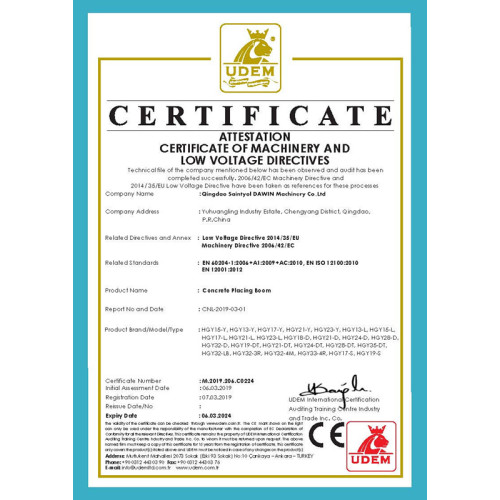 Period:
2019/3/6 - 2024/3/6
Certification bodies:
UDEM International Certification
Saintyol DAWIN Machinery HGY series mobile spider concrete placing boom and the tower jack-up model concrete placing boom has passed CE certificates for Europe market.
Saintyol DAWIN hydraulic concrete placing booms mainly include 13m, 15m, 17m 21m and 23m mobile spider models and also manufacturing 29m 32m 33m tower Jack-up placing boom with 22.7m height or higher climbing column, driven by fully hydraulic system. It does not need to be fixed while working and could be moved to another place by tower crane on site, highly movable and flexible. It is very suitable and widely used for the construction of form walls, pipes, columns, piles, other vertical structures, different floors without confined placing areas and complicated jobsites without being influenced by the size and shape of floors.
Don't forget to sign up!
Find out early about all upcoming promotions and
newproducts releases
Name:

Michael Liu
Tel:

0086-186-69798625
0086-532-89659612
whatsapp:

0086 18669798625
Address:

Office: 216# THE 308 STATE ROAD, CHENGYANG DISTRICT, QINGDAO SHANDONG,CHINA. Factory: No.413# Tieqishan Road, Yuhuangling Industrial Park, Chengyang District, Qingdao, China