CE certificates for HBT DHBT series Concrete Pump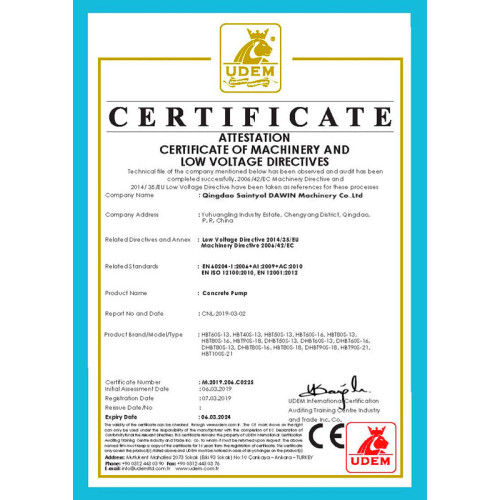 Period:
Mar 6,2019 - Dec 6,2024
Certification bodies:
UDEM International Certification
Saintyol DAWIN HBT DHBT series concrete pump, output capability from 20m3/hr to 80m3/hr with diesel or electric power has passed CE Certificates for Europe market.
Saintyol DAWIN Machinery Concrete pump design is light, easy to move, suitable for small and middle construction projects.
The S-valve series concrete pump is a new generation product developed by combining latest technologies both at home and abroad.
The products have passed ISO9001-2008 quality management system certification and CE certification.
Our workers strictly control all the machining processes and assembly quality, give final test to every pump by simulation working conditions and overload experiments to ensure customers zero fault as first operation.
Don't forget to sign up!
Find out early about all upcoming promotions and
newproducts releases
Name:

Michael Liu
Tel:

0086-186-69798625

0086-532-89659612
WhatsApp:
Address:

Office: 216# THE 308 STATE ROAD, CHENGYANG DISTRICT, QINGDAO SHANDONG,CHINA. Factory: No.413# Tieqishan Road, Yuhuangling Industrial Park, Chengyang District, Qingdao, China