Do you know what to do if the concrete pump cutting ring is worn out?
The
concrete pump
cutting ring mainly cooperates with the rubber spring, and the gap is automatically compensated by the rubber spring and the pressure self-balance, so that the floating cutting ring has a self-sealing effect, thereby increasing the conveying pressure of the S-pipe valve. However, when the concrete pump is used for a long time, the cutting ring of the concrete pump is prone to wear. The cutting ring of the concrete pump is a consumable part, which is used to make it wear back and forth repeatedly during the working process. In general, the wear rate of the cutting ring can only be reduced by improving the pumpability of concrete, and the cutting ring can be reduced by frequent inspection and tightening the nut to ensure that the gap between the cutting ring and the glasses plate is about 2-4 mm accidental damage.
Solution: Tighten the nut to reduce the gap between the glasses plate and the cutting ring under acceptable conditions. If the wear is serious and the slurry leaks or the pump is blocked, it is recommended to replace the new accessories as soon as possible, otherwise the glasses plate will be damaged. loss is too great.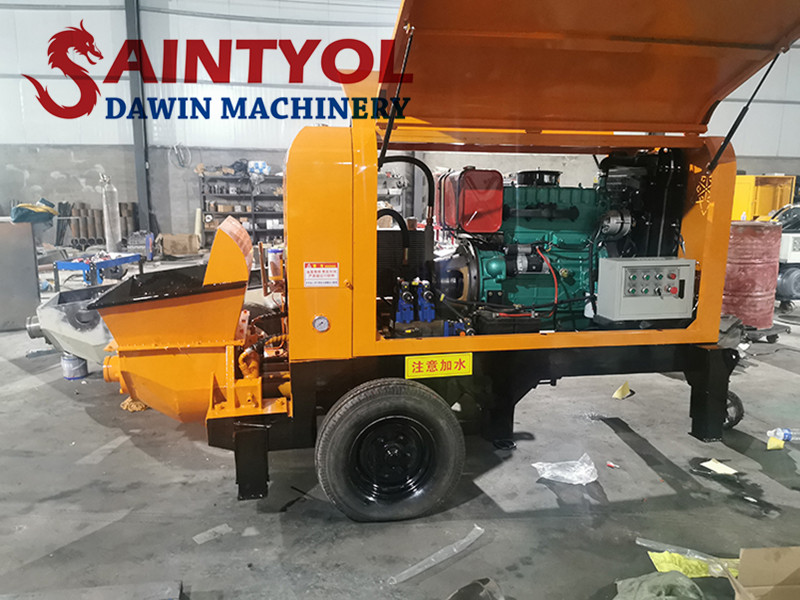 Qingdao Saintyol DAWIN Machinery Co,. Ltd is an enterprise integrating scientific research, production, sales and after-sales service to develop large-scale construction engineering machinery and equipment. The company's main products are (D) XBS series fine stone concrete pump, (D) HBX series small aggregate fine stone concrete pump, JBT series mixing trailer pump, SPJ series wet spraying machine, CSP series cement foaming machine, shotcrete machine and other concrete conveying equipment.
Among them, (D) XBS series fine stone concrete pump is a mortar conveying equipment specially developed according to the characteristics of floor heating construction. It is suitable for large area and high efficiency construction of fine stone concrete filling layer or mortar filling layer in floor heating project. It is also suitable for the transportation of fine stone concrete in various engineering constructions, the transportation of refractory and thermal insulation materials, the transportation of green soil in ecological environment construction, and the pressure grouting of various foundation piles.
The company is people-oriented, develops the enterprise through science and technology, actively introduces domestic and foreign technologies, and pays particular attention to product quality and customer experience. The company's products are sold at home and abroad, and are deeply loved by customers! Saintyol DAWIN Machinery is committed to building a high-quality brand of domestic concrete conveying equipment! We sincerely look forward to working with you!