Do you know what to pay attention to when buying a concrete mixing pump?
With the development of rural areas, many people turn their attention to rural construction, because buying a mixing pump is likely to be the beginning of getting rich. When choosing to buy a
concrete mixing pump
, some people buy whichever is cheaper in order to maximize profits. This is actually very dangerous. Because the function of the machine is the guarantee of quick return of the cost, low-priced products may present a series of quality question. Cheap does not mean good choice, after all, how much value the machine can create for customers is the key. So, the question is, what should you pay attention to when buying a concrete mixing pump?
, to see their own social resources. No matter which line of business you are in, you should consider whether you can continue to operate and make money. In addition to the function of the machine, channels and connections are also very important.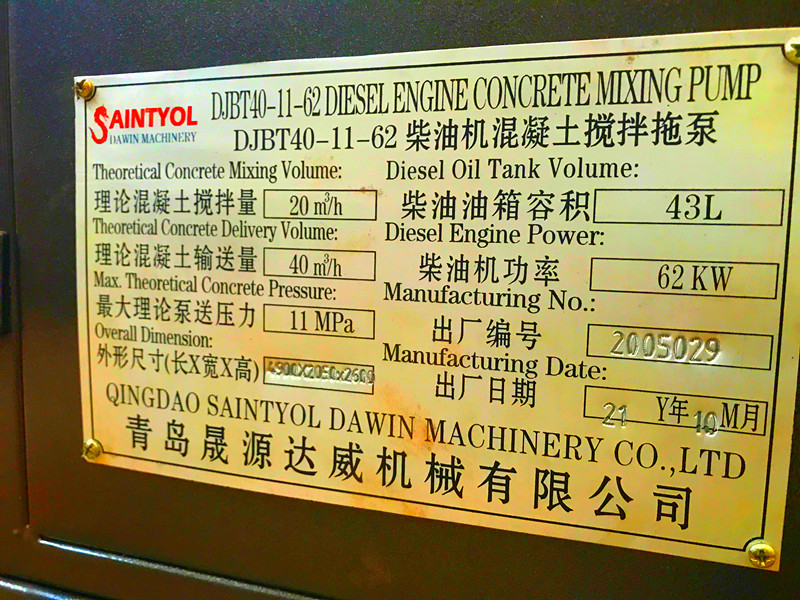 Second, look at product quality. Quality determines success or failure, not necessarily a state-owned enterprise, but it must be a conscience enterprise. Before buying, it is better to go to the construction site for on-site inspection, and you can also ask more about the owner who has bought the mixing pump. Word of mouth is not a one-day effort, and it takes a long time to get the customer's affirmation. In the past few years, Linuo's concrete mixing and dragging pump integrated machine, concrete conveying pump, fine stone mortar pump and other machinery products have been sold all over the country, and have been well received by users.
Third, look at service. Pre-sales and after-sales services are equally important. If there is a problem, if it is not solved in time, the customer delays making money, and the company loses its good image. Since its establishment, Saintyol DAWIN has regarded service as a long-term task, and the farewell has always been the same. Regardless of pre-sale, in-sale and after-sale, Linuo Time attaches great importance to customers.
How to buy a mixing pump, I think everyone can have their own small abacus through the above analysis!
Qingdao Saintyol DAWIN Machinery is the first choice for manufacturers to buy mixing trailer pumps!