Saintyol DAWIN Machinery shares the characteristics of the major components of the fine stone concrete pump
As a kind of concrete conveying equipment developed for the characteristics of floor heating construction, the
fine stone concrete pump
is widely expected by construction units because of its large-area and high-efficiency construction in the filling layer or mortar filling layer of the floor heating project. So why does the fine stone concrete pump work so well? Now we introduce the characteristics of the major components of the fine stone concrete pump as follows.
1. Hydraulic system
The fine stone concrete pump adopts a double pump set. The hydraulic system provides separate oil supply for dual circuits. The fine stone concrete pump manufacturer said that the main oil pump uses a variable piston pump to ensure the system works smoothly and reliably. At the same time, the displacement can be adjusted automatically and manually. The characteristics of pressure relief can effectively protect the main pump and the prime mover. Generally, the suction and return oil filter adopts the suction and return filter, so that the hydraulic oil can be reliably filtered, kept clean, ensure the normal operation of the system, and extend the service life of the hydraulic system components. Air-cooled cooling system. The mixing oil circuit system adopts forced air cooling and large radiator equipment, which can very well adapt to the on-site environment, ensure that the oil temperature of the hydraulic system is in the normal working range, and then ensure that the hydraulic system of the main engine is in normal working condition.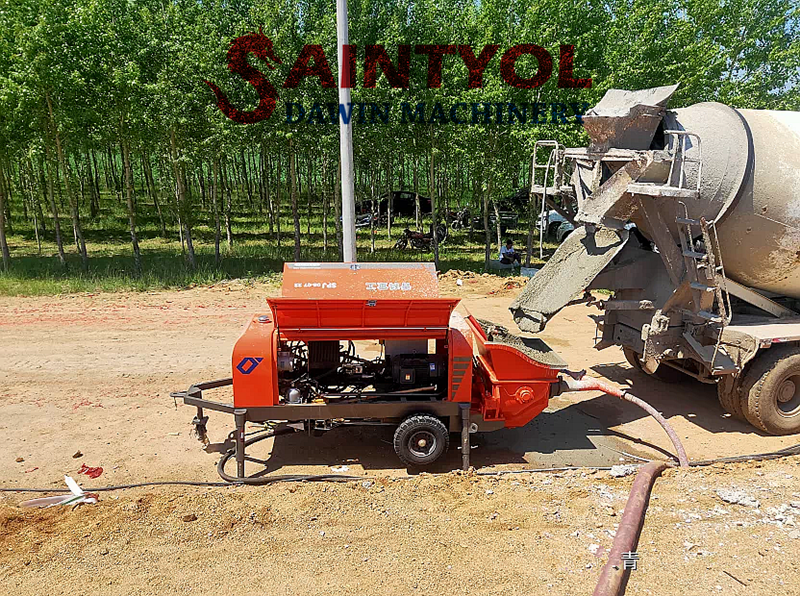 The hopper of the fine stone concrete pump is generally planned and optimized, which ensures the excellent suction performance of the fine stone concrete pump. The fine stone concrete pump manufacturer said: other hoppers are equipped with different specifications and different materials. Vibrator to ensure the normal operation of the fine stone concrete pump.
3. Hydraulic motor of mixing system
Fine stone concrete pumps generally use high torque hydraulic motors. At the same time, there is no overpressure automatic reversal function in the system, which effectively protects the hydraulic motors and automatically eliminates the phenomenon that the hydraulic motors of the mixing system are stuck.
4. Agitator
High wear resistance and large blades are used for mixing, and the concrete should not be accumulated and segregated, so it is very conducive to material absorption.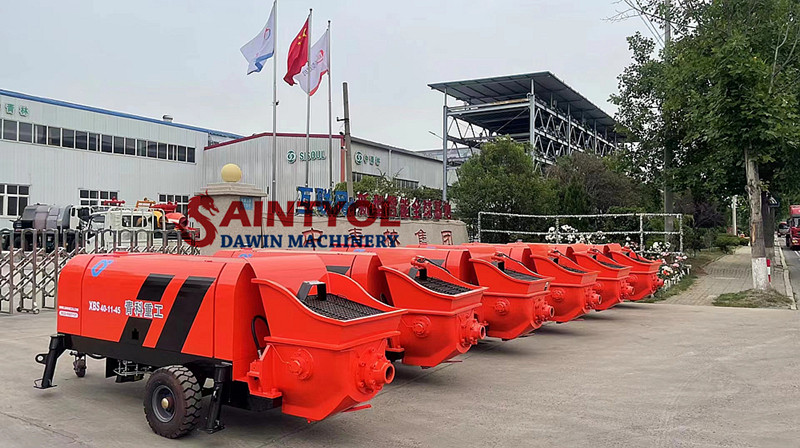 5. S-pipe swing valve
The S-tube swing valve of the fine stone concrete pump has the characteristics of dredging the flow and small resistance, and the wear surface is made of high wear-resistant material for surfacing, and the transmission part is plated and wear-resistant, which effectively avoids the deformation of the hopper and the S valve when the similar products are transported at high levels. The appearance of broken shaft, other equipment chooses the support and seal isolation structure, which improves the service life.
As a branch of construction machinery, the fine stone concrete pump is now widely used in geothermal construction, wall construction and floor mortar backfilling with its economical quotation and wide range of uses.