A real self-portrait of a concrete automatic mixing truck from Saintyol DAWIN Machinery
Hello everyone, I am Saintyol DAWIN
HY3.5 automatic self loading concrete mixer truck
, don't think I am just a small mixer, my skills are great! I can produce concrete on my own because of the proper flow of the "Saintyol DAWIN Family" concrete mixer truck. Let me introduce myself to you!
Let me show you my outfit first. As for my "clothes", there are currently 2 sets, Yello and white and green and black. I like each set of colors very much. 1 set is sunny and cute, 1 set is cool and handsome. Some people like my sunny and cute look, others like it. I look cool and handsome, no matter which suit you like to dress me up, or me who likes more color schemes, my producers, the technicians of Saintyol DAWIN Machinery, can meet your requirements.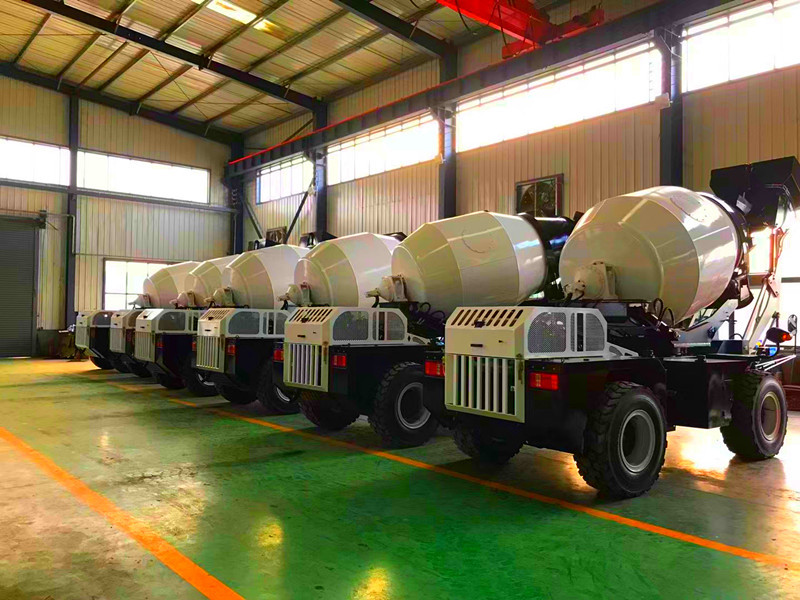 Comfortable seats, cool in summer and warm in winter, air-conditioning fans, an all-in-one workbench with a clear view of important values, clearly marked operating wrenches, 360° panoramic cameras, and various precautions... My cab has everything to help the driver master. Operate the application well to protect the safety of the driver, and also protect the safety of the people around the car, with strong maneuverability and high safety.
Also, many of my hydraulic components are imported. For example, the joint parts of hydraulic oil pipes, such as transitional connection parts, the application of these parts can prevent oil leakage, more quickly dissipate heat, and prevent hydraulic oil from oxidizing and deteriorating, so that the hydraulic action can be more uniform and stable. Efficient operation.
1. In my mixing tank, there is a forced agitator exclusively developed and produced by my manufacturer-Saintyol DAWIN Machinery. This is a technical invention patent that has been obtained, and it is a "treasure" weapon for mixing concrete. The forced mixer can rotate clockwise and counterclockwise alternately in the mixing tank. The raw materials such as cement, stone, sand, and water can be completely integrated. The mixed concrete is more in line with the national standard, and the efficiency is faster.
2. My articulated body has also obtained national patent certification. Both sides of the front and rear frame are connected to one end of the two steering cylinders. The driver can realize flexible steering by controlling the two steering cylinders to expand and contract alternately. It is very practical in the environment of slope protection, etc., and in engineering.
3. I'm a
mixer truck
with "Tug Boat Swing Technology". My daily job is to continuously rotate the mixing tank to mix concrete, and after mixing, I must rotate and unload the material. Therefore, the mixing tank is always rotating continuously. This causes friction between the mixing tank and the tug, and over time, it is easy to damage the mixing tank. But with the "Tug Boat Swing Technology", I am no longer afraid of spinning! Because this skill adjusts the tank track and supports the tug to be evenly stressed, so that the two parties are consistent with each other and get along with each other in a friendly manner. In this way, the mixing tank is more durable.
4. The bucket technology is upgraded, and the loading and unloading is more free. When other mixer trucks load too much material and need to manipulate the loading arm to restart, my bucket can already be loaded and unloaded freely, without the need for excessive operation of the loading arm, the bucket solves it by itself. Moreover, the bottom structure of my bucket has been modified. Compared with the flat bottom structure of other mixer trucks, the bottom of my bucket adopts a round bottom structure, which makes the loading smooth and unobstructed. It saves money only in the loading step. A lot of time, the work efficiency is higher.
As for me, not only can I walk on mountain roads and climb hills, but also go up the plateau into the grasslands. Rural trails can't help me, and township avenues are also passable. Below I will show you my good work! This is my road widening project in the countryside. I use 200 cubic meters of concrete every day to widen a long road in half a day.
This is my road hardening project on a rural road, stirring and unloading, bringing a beautiful new environment to the villagers.
My fans are all over the world, because I not only made their projects completed more efficiently and quickly, but also saved them a lot of money, and the return was considerable. Moreover, my manufacturer Saintyol DAWIN is very considerate to their after-sales service. In time, this alone has added a lot of fan users to my win.
Having said so much, I hope you will not dislike me being long-winded. Of course, I still have many advantages, and only you will find out when you really use it. This confession is here first. If you like me, quickly choose me, let me "make a big splash" in your project, realize concrete freedom for you, open a new chapter of economic return, and create a better future together. Wonderful!