Under special construction conditions, choose these two distributing machines concrete placing boom
Hydraulic placing boom machine
is a kind of terminal equipment used with concrete pump, which is suitable for the construction of high-rise buildings and large-area concrete pouring projects, which improves the quality and construction progress of concrete pouring. However, what type of hydraulic placing boom machine should be used under special construction conditions?
Freestanding hydraulic spreader concrete placing boom.
1. The height of the whole machine can be determined according to the on-site construction conditions, and is suitable for construction sites of various heights;
2. There are cylinder type and frame type to choose from the tower body;
3. It can be equipped with various forms of bases according to different models and heights, and can be fixedly installed on various on-site structures;
4. It can meet the pouring requirements of the working face under some special construction conditions, and is stable and reliable;
5. Equipped with safety protection devices, the equipment is reliable and cost-effective;
6. It is suitable for the construction of beam factories, bridges, tunnels, viaducts, etc.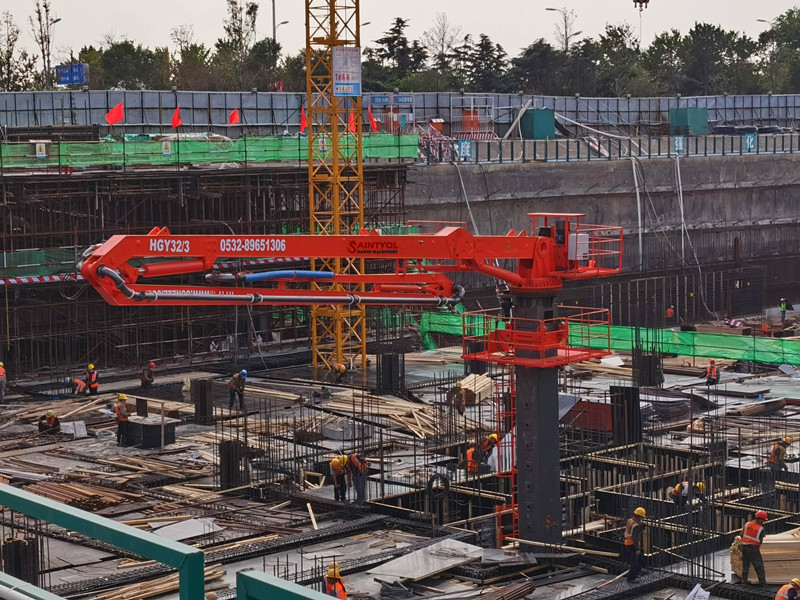 Horizontal hydraulic concrete placing boom spreader.

1. Two-section box structure, light structure;
2. Low cost and low price;
3. Good mobility;
4. It can meet most casting requirements;
5. Equipped with safety protection devices, economical and efficient;
6. Mainly used in beam-making factories and other occasions.
The HGY series hydraulic distributing machine designed and developed by Saintyol DAWIN Machinery absorbs the world's technology, and has the characteristics of reasonable structure, excellent performance, safety and reliability. Different types and models of hydraulic spreaders are suitable for various occasions and environments, which greatly improves the construction efficiency and is a good helper for your construction!