Saintyol DAWIN Machinery Wet Concrete Spraying Machine Shotcrete technology
With the construction of mine roadways, railway and highway tunnels, water conservancy culverts, and various underground projects in the country, the internationally advanced support method of
shotcrete
support is widely used. Concrete shotcrete is the main equipment for this operation, but due to There are three major problems in dry spraying machines: ① large dust, ② high rebound, and ③ poor quality. The country is now vigorously promoting wet wet spraying machines, which have the advantages of low dust, low rebound rate, high construction efficiency, and low cost of use.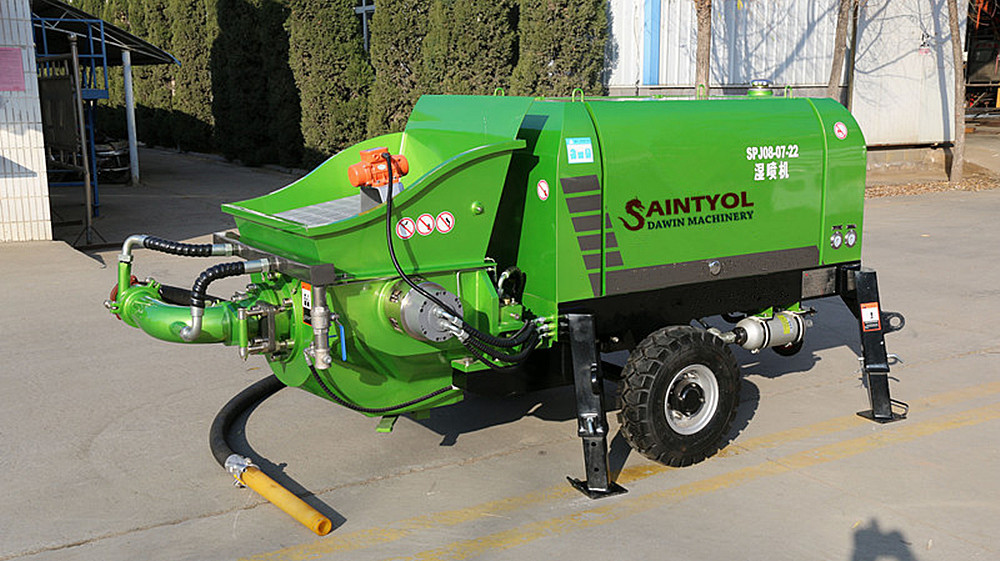 Introduction of product advantages
The pump-in concrete sprayer produced by our company has the following advantages:
one. Variable main oil pump: military quality main pump injection volume continuously adjustable and stepless speed change)
two. Variable plunger type accelerator pump, the amount of accelerator can be continuously adjusted: it can be adjusted steplessly within the range of 0-9%;
3. The spectacle plate and cutting ring are made of hard alloy inlay, which is durable.
Four. Synchronous lubrication pump and six-point lubrication system ensure smooth oil supply at each point, effectively prolonging the service life of wearing parts;
five. Small size, small and flexible product wheel design, easy to move and easy to maintain;
6. Hydraulic pipe joints and rubber hoses are provided by Afaigma in Italy or Gates in the United States.
7. Wireless remote control, using wireless remote control imported from Taiwan, easy to operate
8. Accelerated agent addition and control technology, the domestic famous brand metering pump is accurate in measurement, and the atomized jet is mixed with the nozzle material to make the accelerator and concrete mix evenly;
9. The rebound rate is low. When dry spraying, the concrete rebound rate can reach 15%-50%. Using wet spraying technology, the rebound rate can even be reduced to less than 10%, effectively saving costs.